This filly, sired by Rubick, the highest-rated 2YO colt of his generation, is a perfect match for leading NSW trainer Bjorn Baker who won the Magic Millions in 2014 with Unencumbered.
Rubick X Slainte's Pedigree
Her mother, Slainte, by Not A Single Doubt out of Academy Angel, was big, strong and athletic and extremely fast. She broke track records over 1,000 metres and showed the explosive speed her sireline is renowned for.
Her sire, Rubick, by Encosta De Lago out of Sliding Cube, a speed machine, was widely touted as being the highest rated two-year-old of his generation.
As the most precocious son of Encosta de Lago, Rubick went on as a brilliant weight-for-age winning sprinter as a 3-year-old.
Rubick X Slainte's Preparation
This filly is continuing to grow and fill out with a real sprinting style, good girth and a nice hind quarter with a huge over-stride.
Having recently completed her education process with miRunners Head of Education & Pre-Training, Shannon Betts, and the team at Emeran Park, the intelligent filly is now undergoing pre-training to increase her workload and is handling it with no fuss.
Shannon says: "Progression is a big thing for young horses. I'm so pleased with how this filly has spelled and how she's continued to come on. She's looking so much stronger. She's looking a lot more forward, a lot more precocious. A great attitude.
"Mentally this filly is such a pleasure to work with. She does everything asked of her. She's really switching on.
"She's settled straight back into work without any problems. She's really grown and developed.
"We've certainly got a lovely proposition on our hands now and we're ready to press on with her and stepping things up over the next few weeks."
Rubick X Slainte's trainer – Bjorn Baker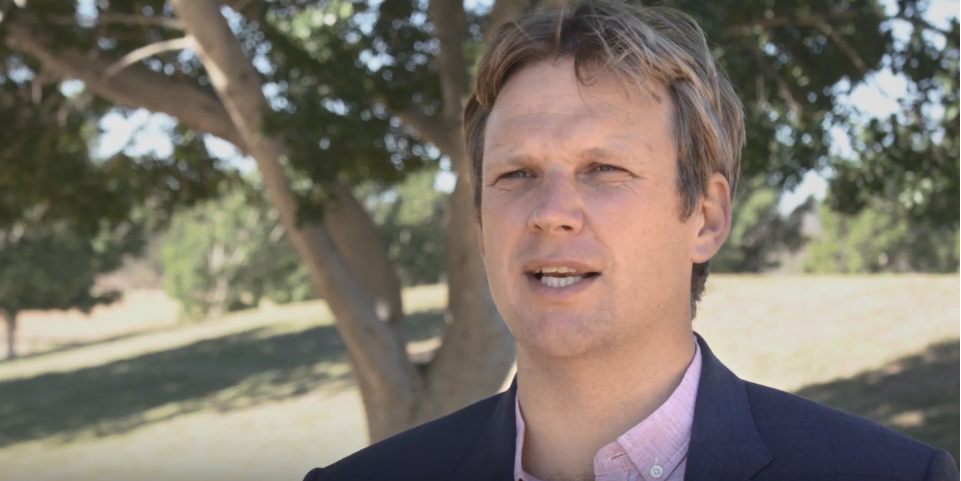 Bjorn Baker is one of the most sought-after trainers in Australia, he claimed his first Group 1 winner with Music Magnate winning the Doomben 10,000 and has won over $23 million dollars in prize money.
In more than 2,800 starts, Bjorn has a win rate of 17% and a place rate of 42%.
Baker, who speaks highly of the miRunners ownership model and is based at Warwick Farm, says: "Our Rubick filly is a lovely horse with a great attitude and great nature.
"I'm looking forward to getting her going. I want to put my foot on the accelerator and go full speed.
"I can't wait to get to the start of the season, get her into a trial and start to race her.
When it comes to training, Baker says: "I love what I do. It's a lot of early starts but I love getting up in the morning and I love the horses.
The up-and-coming NSW trainer's father was also a trainer in New Zealand.
"When I look back now, horses have been the most consistent thing in my life for a long time."
Rubick X Slainte – 2019 Golden Slipper Nomination
Rubick X Slainte has now been nominated for the 2019 Golden Slipper, the world's richest race for two-year-olds and a Group 1 race run over 1,200 metres at Rosehill Racecourse in Sydney each Autumn, showing that miRunners is serious about racing at the highest level.
Prize money for 2019 is confirmed at $3,500,000.
The 2019 Golden Slipper is being run on Saturday, 23 March, with top class horses once again competing for a staggering $3.5 million in prize money and the coveted Golden Slipper trophy.
The Golden Slipper, contested since 1957, continues to be favourite amongst trainers, owners and breeders with a record number of nominations for the race in 2018″.
The next "Slipper" is sure to be as highly anticipated as ever, with the quality racing of the day surrounded by glamour, fashion, and racing culture.
Other Group 1 races on the day include the George Ryder Stakes, Ranvet Stakes, The Galaxy and the Rosehill Guineas. A number of great horses have won this event over the years, including recent winners Sepoy in 2011 and Pierro in 2012.
Most recently, Estijaab in 2018 took home the prestigious trophy and the 2017 winner She Will Reign was last month sold to overseas interests.
Rubick X Slainte – What's next?
She is shortly heading back to Bjorn Baker Racing stable for the next phase of her preparation.
We'll be watching with interest and sharing with you every step of that journey.
Rubick X Slainte - Benefits of ownership
Rubick X Slainte – Certificate of ownership
Opportunities to meet Rubick X Slainte and Bjorn Baker
Weekly video, audio and email updates from Bjorn Baker and other handlers
Pro-rata share of prize money won by Rubick X Slainte
A designated area at the track to watch Rubick X Slainte
Emotional connection and thrill of owning a racehorse
Ongoing Costs
The monthly fee is $15 per month for a single unit and $5 per month for each additional unit purchased throughout her racing career. The unit cost for Rubick x Slainte is the purchase price divided by 1,000. There are no mark-ups or commissions on the purchase price of the yearling. You pay what we pay.